Wharton Construction has been named Best Large Company by Northern Counties Safety Group for its outstanding health and safety record.
The Darlington-headquartered firm was further honoured with the accolade of Best Site Manager going to Andrew Honeyman, and site managers Andy Scott, Mark Rodwell, and Mark Geldard, each receiving certificates recognising their contribution to maintaining and improving on-site health and safety standards.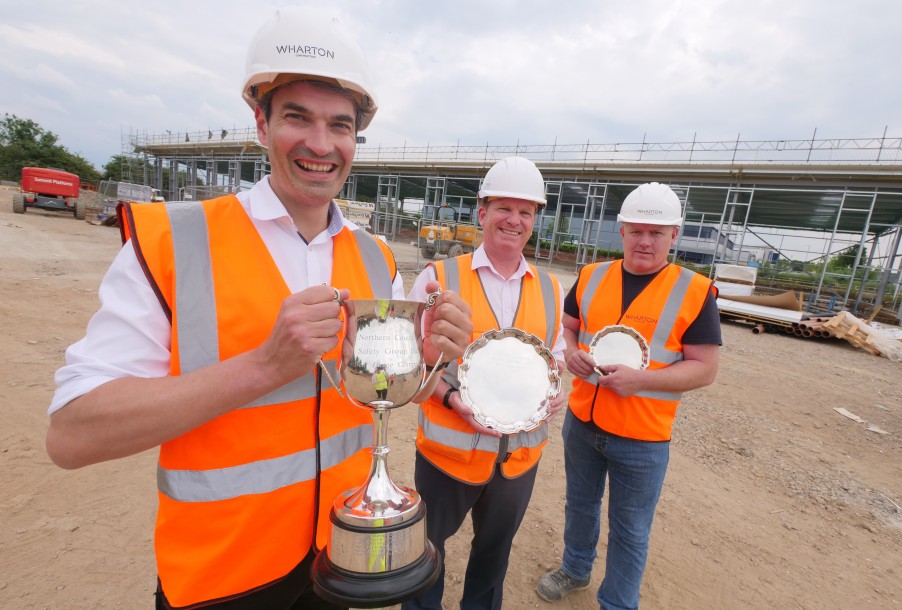 Nick Redpath (centre) presents the health and safety awards to Matthew Wharton (left) and Andrew Honeyman
Matthew Wharton, a director of Wharton Construction, which specialises in delivering commercial and public sector projects across the North East and North Yorkshire, said:
"Safety is our primary focus, and everyone is proud of the way our staff are dedicated to minimising and eradicating all forms of risk."A typical construction site throws up a host of potential hazards, from working at height, using tools and machinery, to slips, trips and falls – which is why it's paramount that health and safety procedures are not only in place but are adhered to."Our site managers are key to ensuring a project is delivered on time but is done so safely through a process of continuous improvement. Wharton Construction is a family-run company based on family values, which includes ensuring that health and safety is part of its everyday work culture."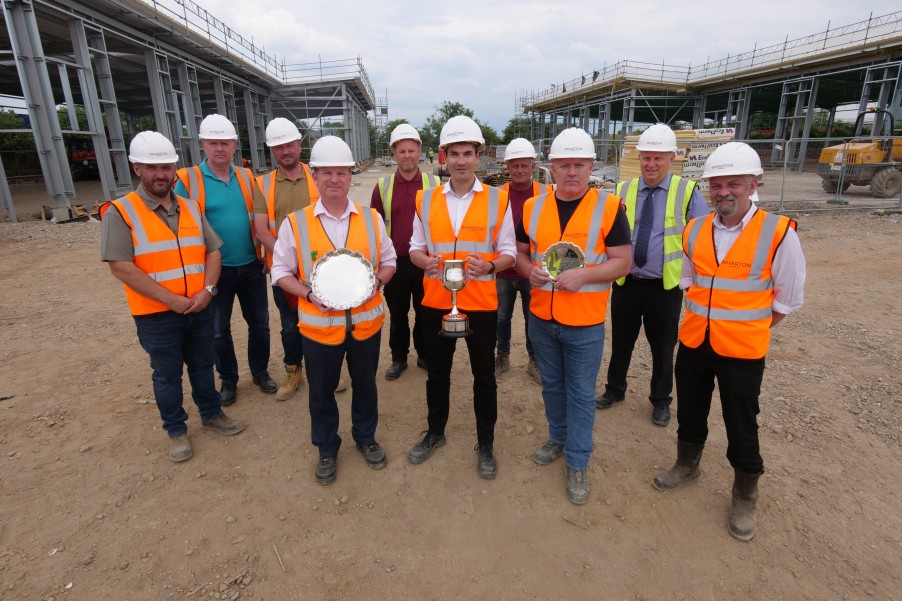 L-R (front) Nick Redpath, Matthew Wharton and Andrew Honeyman with members of the Wharton Construction team
Northern Counties Safety Group was established in 1972, as a not for profit organisation. Now in its 50th year, it has developed into a thriving organisation of more than 70 member companies.
It provides a comprehensive health and safety advisory service to members, including safety training, routine site monitoring and inspections, plus regular updates on legislation and industry best practice.
Nick Redpath, operations director of Northern Counties Safety Group, said: "
"We have worked with Wharton Construction since 1993. These awards are well deserved.as Wharton Construction don't just adopt a tick box approach to health and safety but have instilled a 'safety-first' attitude amongst their employees."
Wharton Construction receives award for health and safety excellence >>> WATCH HERE